Collective wellbeing for all our relations.
Strengthen connections with the land, ourselves, and each other, fueling creativity to create social change.
Create a foundation for impactful change.
CREATIVITY plays a vital role in Indigenous resurgence and decolonization by helping us tell our own stories, learn on a holistic level, and imagine healthier ways going forward.
CURIOSITY allows us to learn more about ourselves and others by creating space to embark on deeper discovery.
AUTHENTICITY means that Indigenous people who are in tune with their gifts, strengths, and values become confident, inspired leaders who are better able to contribute to the community.
INTERCONNECTEDNESS means that our thoughts, values, and ideas are fueled by—and contribute to—our communities.
Indigenous-led from the beginning, we launched in 2013 after a fortuitous convergence brought three leading Indigenous facilitators together. Each had recently experienced the creative empowerment method of Partners for Youth Empowerment (PYE Global) and they were energized to integrate these tools into their work. When a philanthropist offered seed money to share creative empowerment with Indigenous communities in BC, IndigenEYEZ was born.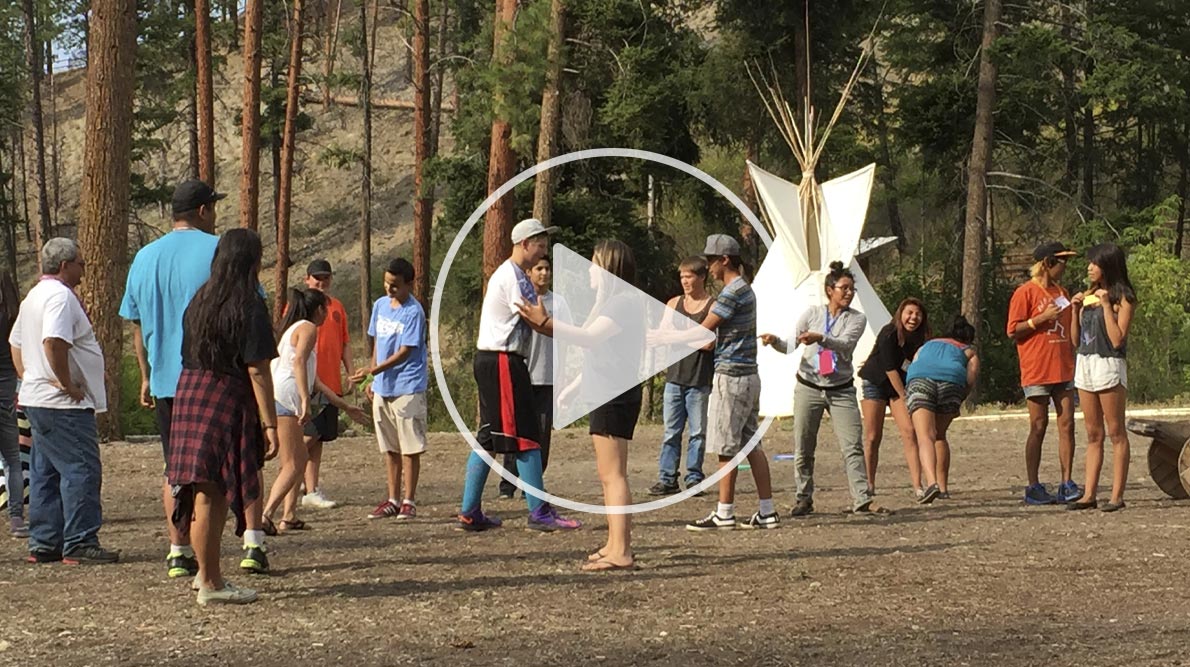 Where does the name 'IndigenEYEZ' come from?
With a focus on youth, IndigenEYEZ has hosted over 30 successful youth camps impacting Indigenous youth from all over the lower mainland and interior of BC. This important work brought with it the realization that youth leave camps feeling uplifted and empowered, but often return to communities where they lack this level of support. In an effort to strengthen the circle around youth, IndigenEYEZ has gradually expanded our programs to include workshops for building community capacity.
In 2020, we launched kinSHIFT, a social enterprise created in response to the growing demand from settlers wanting to learn to cultivate respectful and authentic relationships with Indigenous peoples and places. Visit kinSHIFT for more information about online workshops.
Today, IndigenEYEZ has grown into a movement that has touched thousands of people across BC. We offer a range of programs developed and delivered through an Indigenous lens to instill confidence, communication skills, and effective group dynamics. We focus on empathy, teamwork, and creativity—tools that are helping Indigenous peoples embrace ancestral gifts, exercise our voices, and come together for positive change.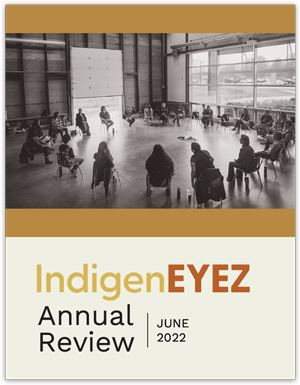 Download the IndigenEYEZ Annual Review
The story of IndigenEYEZ cannot be told without recognizing so many people!
Kim Haxton co-founded IndigenEYEZ and her deep knowledge of healing, decolonization, and connecting to land set the path that we continue to travel.
Philanthropist Ian Watson gave our fledgling initiative the enthusiasm and financial support that planted the seed and kept it watered in our early years.
Our staff team, past and present, small and mighty, has brought together committed, talented people who have helped us grow.
Our volunteer steering committee of leaders and grassroots champions shares insightful and strategic guidance for our journey.
Our network of Indigenous facilitators bring the passion and diverse skills that are the heart of all we do.
Our partners include remarkable organizations and individuals who are a joy to work with and enable us to do far more than we could alone.
Our funders, from individual donors to large foundations, contribute with a generosity and commitment that enables us to keep following snk'lip's path of transformation.
Our participants, finally and most importantly, bring the courage and laughter to turn the sparks we share into powerful fires of change, creating brighter futures for Indigenous communities.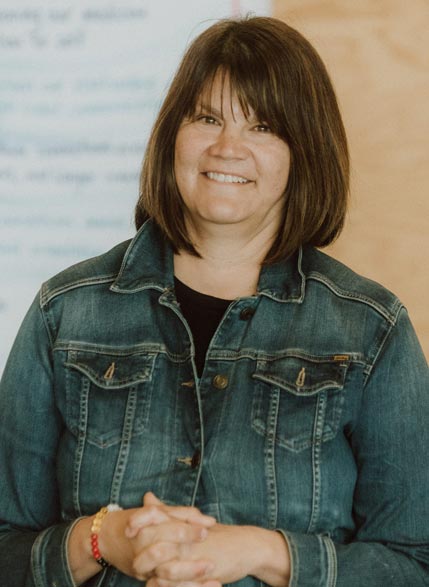 Known for out-of-the-box workshops, Kelly brings the strengths of both her syilx Okanagan and European ancestry to her work as a leader. Through 30 years of on-the-ground engagement with community, Kelly came to see relationship breakdown as a common barrier to the success of programs and came to understand that revitalizing Indigenous ways is key to turning this around. She co-founded IndigenEYEZ as a means of supporting natural champions in communities to better respond to the impacts of colonization.
Kelly is focused on the role of relationships in systems change and is sought out for her capacity to help deepen relations at a time when building connections across differences is essential. She has a BSW, Executive Coaching Certification, and extensive training in creative facilitation through Partners for Youth Empowerment (PYE Global). She lives in her family's ancestral home on the Blind Creek Reserve in syilx territory in the Similkameen Valley.