As Indigenous people, our capacity for healthy relationships is in recovery. That is why our programs focus on strengthening four essential relationships: with self, with others, with nature, and with culture.
Our holistic approach engages the heart and the mind. We draw on the land and the awareness that nature offers, to enhance our sens­es and intuitions.
We encourage communities to explore their own cultures and to think deeply about what tradi­tional values mean in the contemporary world.
---
See youth blossom overnight: Many teens arrive at camp so shy they are almost invisible. Watching them come out their shell is breathtaking. One 15-year-old said that being silent was how she protected herself. She resolved to stop. Soon, she was participating with confidence. And when we needed an MC for the talent show, guess who volunteered?
Youth report that they leave our programs with more confidence, a stronger voice, and greater ability to build supportive relationships with others. An independent evaluation of our partner Partners For Youth Empowerment found that youth who participate in Creative Empowerment programs are more confident, more motivated to learn, and more likely to take on leadership roles within their communities. And they found that these outcomes continue over time
Most common complaint? The camp was too short!
---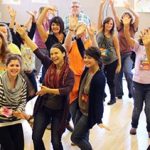 Re-energize staff and leaders: "The facilitators met each participant at their unique level. There was no pressure to participate, yet there was ample opportunity and encouragement for everyone to participate. It was great having all ages involved, and all Nations present. In the end, I felt a deeper sense of trust and acceptance. It was a wonderful opportunity for both personal and professional growth—I look forward to attending more of your workshops in the future."
Adults report that our workshops are both inspiring and effective. They say that IndigenEYEZ helps them make meaningful improvements to how they deliver existing programs. The feedback we received is consistent with a multi-country evaluation of our partner organization Partners For Youth Empowerment which showed this type of adult training is highly rated around the globe. Participants reported renewed energy, improved program design, and increased capacity to engage youth at a deeper level.
Favorite feedback? IndigenEYEZ is medicine for relationships.