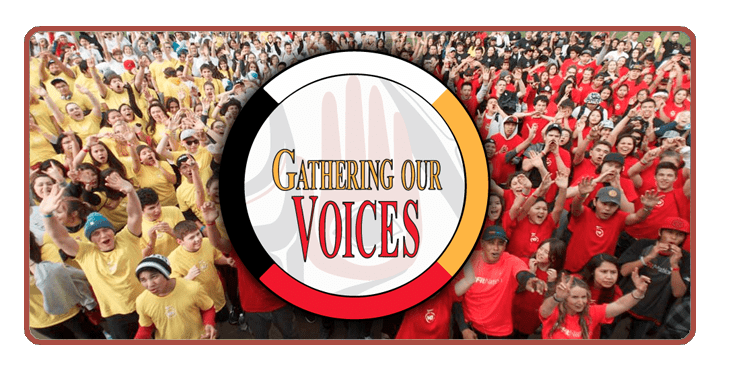 Mar 20, 2018—Richmond, BC:  IndigenEYEZ is proud to be returning to Gathering Our Voices, March 20 to 23!

This year, Gathering Our Voices is offering over 60 leadership workshops to Indigenous youth – from music, visual art, and dance, to interpersonal health and wellness, computer engineering, 3D printing, aerospace technology, emergency preparedness, and much more.
Gathering Our Voices will be bringing together over 1,000 youth from all across Canada to join this dynamic learning experience – to engage, inspire, and mobilize our culture among peers.

Which workshops are IndigenEYEZ offering?
Here's the details on what our team will be presenting at Gathering Our Voices 2018:
---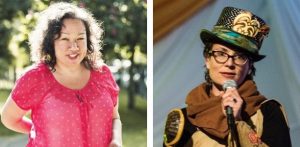 Land, Culture, and You
Kim Haxton & Hazel Bell-Koski
March 21st 9am-10:30am, March 22nd 3:30pm-5pm
Capacity: 25
The natural world has been a source of personal wisdom for Indigenous people for time immemorial.  Come and explore how our cultures connect us to the land –and how they are also reflected in the land. This workshop supports you to use your creativity to engage the issues and concerns that face your lands. Interactive group work turns knowledge sharing and reflection into a dynamic experience. Enjoy this chance to use the infectious energy of art marking to envision what these relationships could look like in your life and on your territories.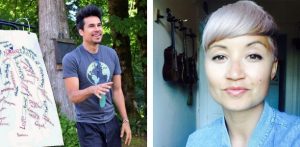 Decolonizing Through Sound and Song
Warren Hooley & Jody Okabe
March 21 1:30pm-4:30pm
Capacity: 50
We all have stories, and our stories are important. Through this workshop we will learn ways to tap into our voice through games, creative writing, vocal exploration, and collaborations. We will explore songwriting, metaphors, movement and find our own unique ways of adventuring into our creative process.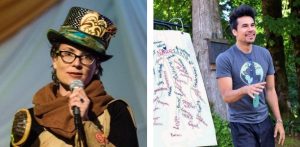 Connecting to Self, Connecting to Culture
Hazel Bell-Koski & Warren Hooley:
March 22 1:30pm-4:30pm
Capacity: 70
The IndigenEYEZ team will take you through a series of arts-based activities to help strengthen your confidence, explore your voice, and get more comfortable with being yourself. Many of our teachings remind us that we are most powerful when we are confident in who we are. Unfortunately, colonization and racism have negatively impacted our confidence and pride in ourselves. This workshop will support us to change beliefs that sabotage our success into affirming messages that support us in reaching our fullest potential. The IndigenEYEZ artist facilitators will utilize storytelling, theatre, movement, song, and creative writing activities to explore what it means to walk confidently with your feet in two worlds.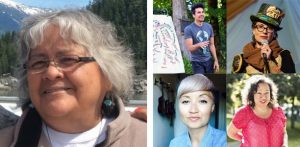 Art Barn with Auntie Deb
Deb Crow & the entire IndigenEYEZ team
March 22 1:30pm-3pm, March 22 7pm-11pm
Capacity: 40
Having fun looks different on everyone. If dancing and loud music are not your thing, come check out the quiet, relaxed space in the IndigenEYEZ Art Activities Room. Deb is a grandmother who uses her creative nature to host a gentle and inviting space for all participants. There will be a variety of activity stations such as silk-screening and stenciling, artist trading cards, collage. There are shadow puppets and image creation with Hazel. And therapeutic arts with Deb such as leather bracelets, beaded earrings, keyrings, and oil pastel art. Warren will be hosting a games corner with a variety of games to help the group come together. Kim will be leading the creation of a "cranky" aka: old-school television that can be played back with storytelling and/or freestyling. Come by and create an art piece and an experience to take home with you!
---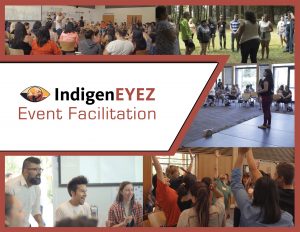 IndigenEYEZ is pleased to be contributing to this important youth initiative. We work with partners in many areas from health and education to the environment, leadership and administration – both with youth and adult.  No matter what our role, IndigenEYEZ leaves people inspired, connected, and ready to take action. To learn more about what we can add to your event, please visit
www.indigeneyez.com/event-facilitation/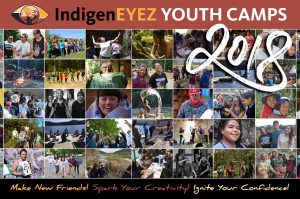 IndigenEYEZ youth empowerment camps create safe spaces where youth can explore identity and step into Indigenous strengths. Fun, laughter, and our fabulous facilitators build a camp community where everyone is valued. With the focus on hope, our camps support everyone involved to see that the power to create the world we want lies within each of us! To learn more about our 2018 youth camps, please visit www.indigenEYEZ.com/YouthCamps2018
---
To check out the full list of Gathering Our Voices workshops and venues visit: www.GatheringOurVoices.ca