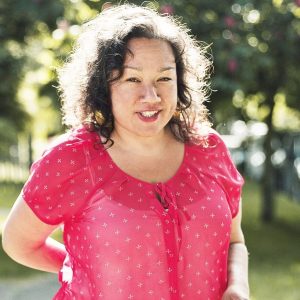 Kim Haxton
(Potowatomi)
Pronouns: she/hers

Email: kim@indigeneyez.com
Location: Vancouver, BC
Facebook: @kimiking
Instagram: @k_haxton

IndigenEYEZ co-founder Kim Haxton is Potowatomi from the Wasauksing First Nation in northern Ontario. With degrees in geography and outdoor recreation, Kim has two decades of experience doing wilderness therapy and leadership development with aboriginal youth.
After 20 years studying with indigenous healers from Nepal, Thailand, Peru, Venezuela, Mexico, Belize, Haiti, and North America, Kim has become deeply involved in the healing of community and individual.
Kim's extensive work in trauma counselling training has given her the opportunity to work hands-on with survivors of disaster, whether man-made or natural, whether immediate or ancestral. Paired with Kim's trauma work and healing knowledge is a strong background in wilderness therapy that has allowed her to support peoples' discovery of their internal compass while establishing their relationship to nature.
Kim brings a unique perspective to healing which includes traditional and modern modalities. Kim is convinced of the power of individuals and communities to enact their own healing through decolonization and harmonizing with nature.
In 2019 Kim spoke with CFRO 100.5 FM Vancouver Co-op Radio host Don Shafer about building the confidence of Indigenous youth through the arts and land-based traditions:
Listen to "Kim Haxton – IndigenEYEZ" on Spreaker.
---
"Releasing my internalized oppression through decolonization it is now clear to me—painfully so—that that there are ways of experiencing, engaging and understanding the world that are richer; deeper; more nuanced and subtle; more meaningful; more wholistic; more beautiful; and more loving than, say: identifying a tree species; locating a specimen by its direction and distance from a built-structure, geographic coordinates or a point on a map; gauging a tree's dimensions, form and age; etc., etc…."
– Indigeneyez Participant Hollyhock 2019
---
Contact Kim Haxton: kim@indigeneyez.com