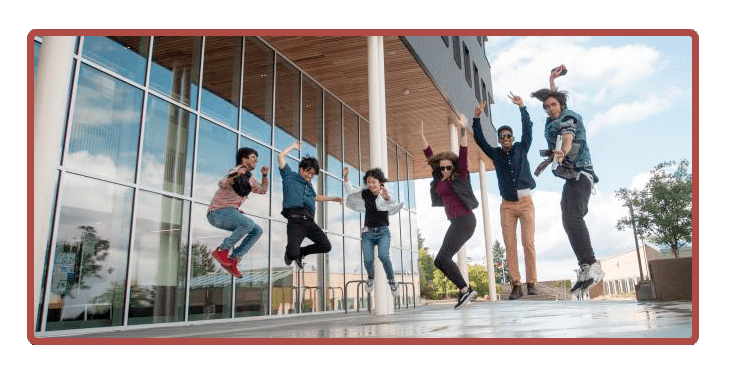 Jan 7, 2020— Nanaimo, BC: On the territory of the Snuneymuxw there is a growing interest in learning Hul'q'umi'num, the language spoken by First Nations on southeastern Vancouver Island by the Snuneymuxw, Stz'uminus and Snaw-Naw-As people. Last November, a forum was held to talk about how the Nanaimo community is incorporating Hul'q'umi'num and to ensure better understanding about using the language in a respectful manner.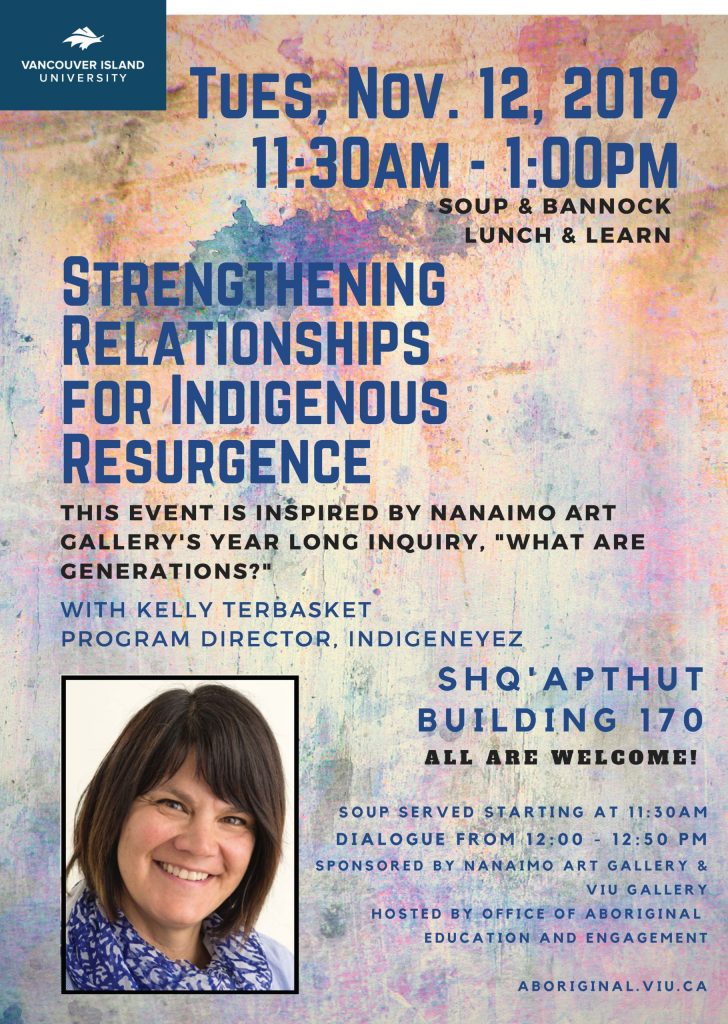 IndigenEYEZ cofounder and program manager Kelly Terbasket was invited to Nanaimo to speak at a Vancouver Island University (VIU) lunch and learn and to co-facilitate this important conversation at the Nanaimo Port Theatre.
Kelly's talk at VIU was "Strengthening Relationships for Indigenous Resurgence." At the talk, she brought up the metaphor of the cultural iceberg: "If Indigenous resurgence is an iceberg, policy change and activism are the visible tip while relationship and connection are the massive piece beneath the surface." Kelly included interactive exercises in the talk to foster inclusivity and create diverse dialogue and the event ended with many youth and adults talking about the Indigenous resurgence issues that mattered to them.

Kelly also facilitated the invite-only event at the Nanaimo Port Theatre which included City of Nanaimo staff, Nanaimo Art Gallery staff, staff from other local organizations, along with local Snuneymuxw elder, Gary Manson. Gary is a Hul'q'umi'num language champion. During this community discussion he shared his dedication to revitalizing Hul'q'umi'num and his goals for the ancestral language of his people.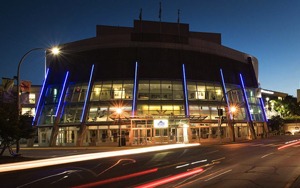 This special session was designed for staff from local organizations so they can better approach incorporating Hul'q'umi'num language in their work in a respectful manner that strengthens relations with Snuneymuxw and other Hul'q'umi'num speaking Nations. It was  also a component of Nanaimo Art Gallery's project, Siwin: Word Power.
The sense of safety that the IndigenEYEZ methodologies fostered allowed participants to ask hard questions and stay connected to each other through empathy while gracefully navigating cultural and personal traumas, as well as trigger-laden topics including: How can we as settlers / non-Indigenous peoples help in a way that truly is respectful and acting as an ally?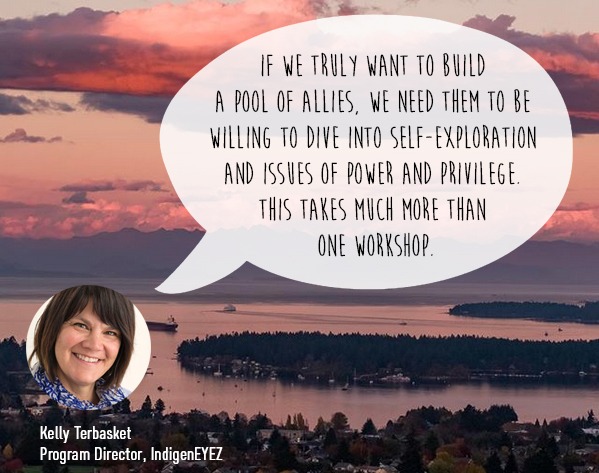 As Kelly says: "If we truly want to build a pool of allies, we need them to be willing to dive into the self-exploration of knowing our power and privilege. This takes much more than one workshop, but this is the first step to begin thinking about how you might be overlooking some very deep mechanisms of colonial socialization."
With only a handful of fluent Hul'q'umi'num speakers remaining, there is a lot at stake. Guided by Kelly and Gary, the community talked about how to respectfully participate in the work of Hul'q'umi'num revitalization, ensuring they are aware of cultural protocols and that they are working in a way that is supportive of Indigenous leaders and language learners.
Some goals of this dialogue included:
Inspire organizations in Nanaimo to honor the land they settled upon and the language and history of the First Peoples.
Learn respectful protocols such as land acknowledgements, some Hul'q'umi'num words, some stories and teachings, and receive guidance on what is acceptable to share and what is not.
Come together in a united commitment to support Hul'q'umi'num resurgence.
Brainstorm potential actions that organizations can take to move forward and how to work together on these goals.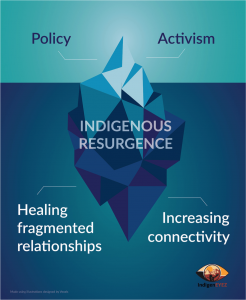 The community dialogue was a great success. Participants left feeling a greater sense of community and an optimism that the shared outcomes wanted for all involved are achievable with solutions already put into motion.
"I learned about the importance of acknowledging the territory I am an uninvited guest on and understanding cultural protocol."—participant
"I appreciated the laughter and the combination of one-on-one dialogues. It is refreshing to go to a workshop about such a heavy and nuanced subject matter and leave feeling hopeful and empowered."—participant
---
Join Kelly on January 17th for Champions of Change: Session Four to learn the skills that are foundational to deep listening, empathy, emotional literacy, self-awareness, and compassionate communication.
LOCATION:
Westbank First Nation Health and Wellness Building: The Siya Room
1900 Quail Lane, West Kelowna
DATE/TIME:
Friday January 17th, 9:00 am – 4:30 pm
COST:
$150
Lunch will be provided for each session, with gluten-free and vegetarian options.
[maxbutton id="5″ text="Register Online" url="https://forms.gle/wPFkTU5YCWHpu4Kg9″ linktitle="Register Online" window="new" nofollow="true"]
QUESTIONS?
contact Anni Phillips at inspire@IndigenEYEZ.com or 250-328-9634