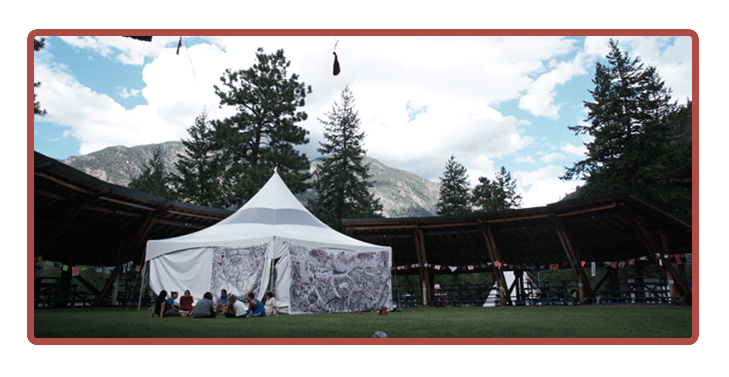 June 25, 2019 — Vancouver, BC: We are delighted to report that the crowdfunding campaign to buy our own Gathering Place tent for our land-based camps has raised just over $4,000!
We are honoured by the recent contribution of The Public Guardian and Trustee (PGT) of BC. The PGT protects the interests of British Columbians who lack legal capacity to protect their own interests. The organization recognizes BC Child & Youth In Care Week annually by holding a bake sale and then donating the proceeds to an initiative that provides services to youth. It was a wonderful surprise to be chosen as this year's recipient!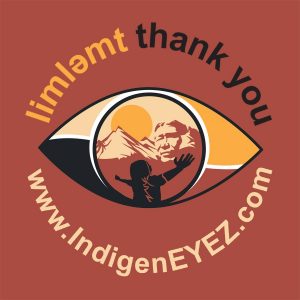 Every dollar counts! Thank you to everyone who has donated so far—much gratitude to: Ruthann Lee, Kim Lenton, Alexa Pitoulis, Laurie Buckley, Adam Millard, Andrew Stegemann, Samantha Garvey, Anna McClean, Khari McClelland, Velma Bateman, Jenna Dunsby Cheryl Berry, Vanessa LeBourdais, Patricia Maniwa, Efstratios Caldis, Kirsten Starcher, Marion Best, Madeline Terbasket, and additional 4 anonymous donors.
The Gathering Place is the heart of our land-based camps. With your help, we hope to raise enough to buy our own tent in time for the IndigenEYEZ summer camp that starts July 14th in the Similkameen Valley. Tent rental for our 7-day camp is $5,000.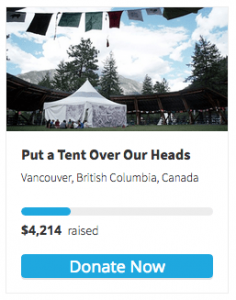 Since we began hosting camps, we've paid over $20,000 in rental fees – enough to purchase our own tent.
Help us reach our mini goal of $5,000—we only have $786 to go!
Our camps are powerful. Youth leave feeling more confident, more motivated to learn, and more likely to make positive change in their communities. We see them getting stronger every year!
What do we get up to at our camps? If you haven't had a chance to check it out, here's a recent interview with Hazel Bell-Koski.
Your support for our Gathering Place tent is a gift that will continue to give for many years to come. You can also support us by sharing this page with your network. With much gratitude. limləmt!
Gifts over $10 receive a tax receipt
IndigenEYEZ BC is a project on Tides Canada's shared platform. Your tax receipt will be issued and emailed by Tides Canada Initiatives Society for donations to IndigenEYEZ BC. Complete address is required for tax receipt.
Every dollar counts. Your generosity today will change lives tomorrow!
[maxbutton id="6″]