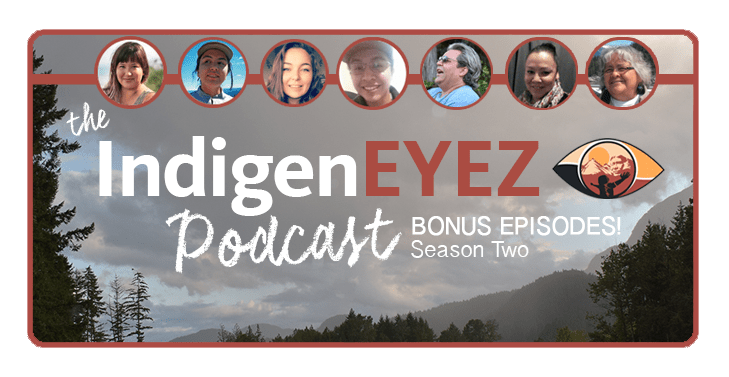 June 20, 2019—Cawston, BC: Lost episodes from our Season 2 podcast have been found!
During episode 4.2 we talk with facilitator Deb Crow. Hosted by IndigenEYEZ Youth Panel member Natalie Sterling-Moses, Deb talks about the strength and resilience of youth, the power of art and colour, and the growth of community leaders.
"There is always a moment at camp where I walk away remembering the change somebody has made." – Deb Crow
"I had a young person tell me the reason I'm good at camps is because I'm crazy… and because I'm there." – Jasin Wellons
Listen to the profound wisdom shared by facilitator Jasin Wellons in episode 3.2, a lost episode from our Season 2 podcast, hosted by Emma Cohen and Natalie Sterling-Moses. Jasin talks about healing, forgiveness, empowerment, personal transformation, and being here, right now.
Check out the entire Season Two Playlist here.

Who was interviewed in Season One? IndigenEYEZ co-founder Kim Haxton, weaver and artist Avis O'brien, and dancer, actress, and model, Madelaine McCallum, to name a few. Re-listen to our full Season One Playlist here.

Youth is a critical time to develop positive life habits. No one needs this more than Indigenous youth. Colonization rocked our foundations. Today, our kids still face higher rates of depression, addiction, violence, and suicide. Too many of them feel isolated and afraid to reach out.
We're into week 4 of our crowdfunding campaign to buy our own Gathering Place tent. The Gathering Place is the heart of our land-based camps. With your help, we hope to raise enough to buy our own tent in time for the IndigenEYEZ summer camp that starts July 14th in the beautiful Similkameen Valley.
Tent rental for our 7-day camp is $5,000. Since we began hosting camps, we've paid enough in fees to buy our own tent and more. We are asking for your help to reduce our costs and increase our ability to respond to the demand for more wilderness trainings.
[maxbutton id="4″ text="Donate Today!" url="https://chuffed.org/project/help-us-buy-the-gathering-place-tent"]