May 21, 2019 — Vancouver, BC: We have just launched a crowdfunding campaign to buy our own Gathering Place tent.
The Gathering Place is the heart of our land-based camps. With your help, we hope to raise enough to buy our own tent in time for the IndigenEYEZ summer camp that starts July 14th in the beautiful Similkameen Valley.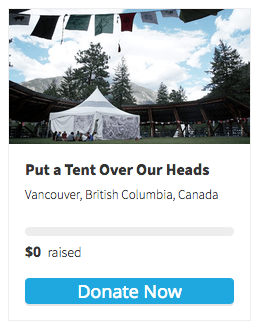 Tent rental for our 7-day camp is $5,000. Since we began hosting camps, we've paid enough in fees to buy our own tent and more. We are asking for your help to reduce our costs and increase our ability to respond to the demand for more wilderness trainings.
Youth is a critical time to develop positive life habits. No one needs this more than Indigenous youth. Colonization rocked our foundations. Today, our kids still face higher rates of depression, addiction, violence, and suicide. Too many of them feel isolated and afraid to reach out.
Our camps are powerful. Youth leave feeling more confident, more motivated to learn, and more likely to make positive change in their communities. We see them getting stronger every year!
Your support for our Gathering Place tent is a gift that will continue to give for many years to come. You can also support us by sharing this page with your network.
With much gratitude. limləmt!
Gifts over $10 receive a tax receipt
IndigenEYEZ BC is a project on Tides Canada's shared platform. Your tax receipt will be issued and emailed by Tides Canada Initiatives Society for donations to IndigenEYEZ BC. Complete address is required for tax receipt.
Every dollar counts. Your generosity today will change lives tomorrow!
[maxbutton id="6″]