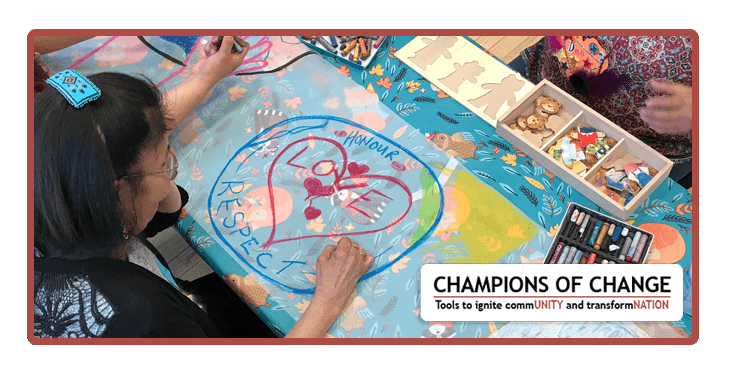 Mar 7, 2019—Penticton, BC: So what is self-care anyway? Netflix? A chocolate bar? Coffee with a friend? Join us March 15th for Champions of Change to find out more about self-care and why it's so important for everyone working in First Nations communities.
During our last session we did arts-based activities focusing on neuro-decolonization and lateral liberation. Led by much-loved facilitator Deb Crow, attendees moved through this topic with a game called Cranky.
The creation of a Cranky is a whole-group art activity that helps develop group cohesion and shared vision. It's a good way to open up discussion on a theme and express our visions of a shared future. In this particular exercise, the theme was how would you bring lateral liberation to your community?
What were the highlights?
"Wonderful facilitation – it was fun and memorable."
"I'm leaving with inspiration and hope."
"After experiencing this, I will look at things with a different perspective."
"Singing made it warm and fuzzy."
"I learned that feeling and connecting to others is key to creating a space of understanding."
"I will remember to greet every situation with an open mind: no assumptions."
"I will remember, 'You can't always believe what you think.'"
"I'm walking away with new ways to safely connect with fearful students."
"The activities I learned today will be incorporated into the programming at the residential treatment centre I work at."
During Session 6 on March 15th, we will be learning how to strengthen our self-care. This will include:
• Learning about the self-care journey
• Connecting to and expanding our SPARK
• Discovering the mental blocks that prevent us from self-care
• Creating personalized 'rituals' that are realistic daily steps to fill our own cups
---
Like all Champions of Change sessions, we focus on the needs and priorities that arise from the group assembled – so the topics covered in the sessions are both responsive and fluid.
There are only 3 more sessions!
You can still jump in at any point in the journey and benefit deeply.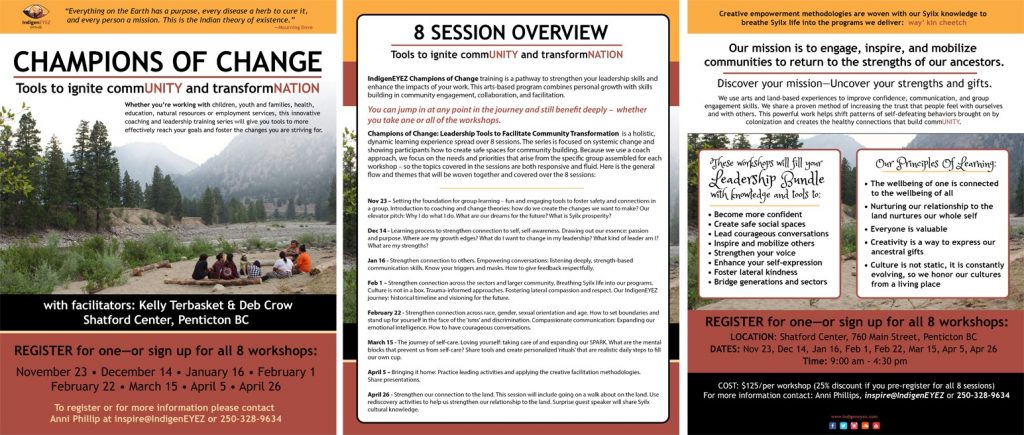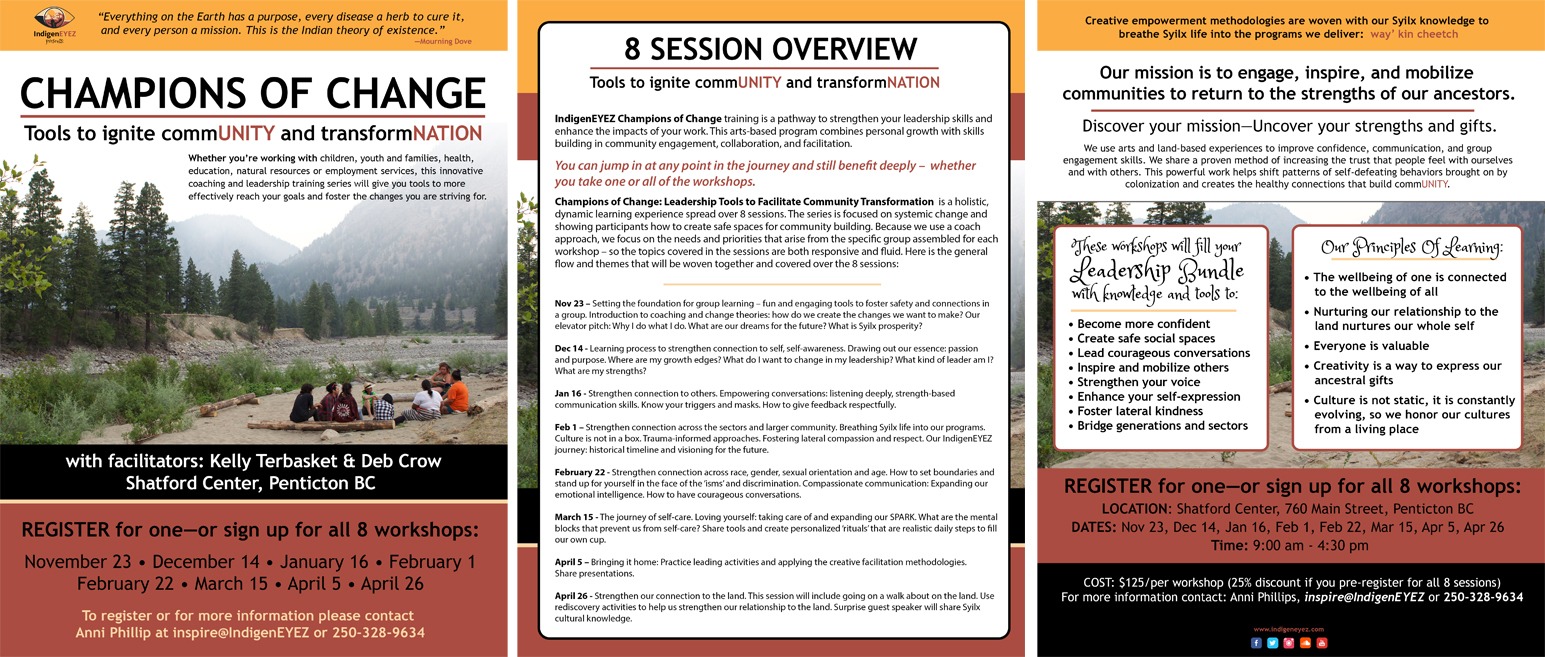 LOCATION:
Shatford Center – 760 Main St, Penticton BC
2019 DATES:
Mar 15, Apr 5, Apr 26
Sign up for one—or for all remaining workshops!
TIME:
9 am – 4:30 pm
COST:
$125/per workshop
Lunch will be provided for each session, with gluten-free and vegetarian options.
[maxbutton id="5″ text="Register Online" url="https://goo.gl/forms/Fwv6IyMTT1tRjnbU2″ linktitle="Register Online" window="new" nofollow="true"]
QUESTIONS?
contact Anni Phillips at inspire@IndigenEYEZ.com or 250-328-9634