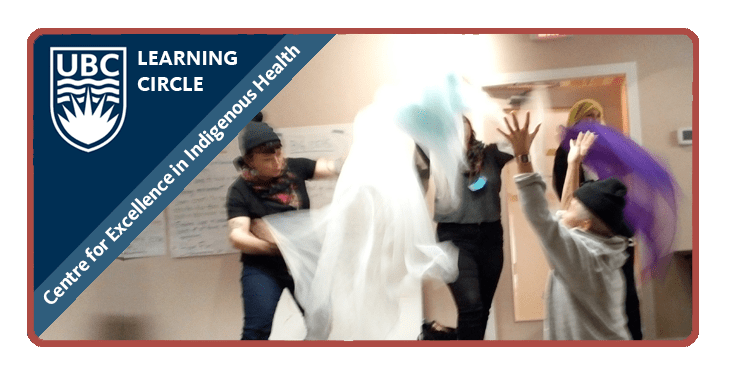 Oct 2, 2018—Vancouver, BC: IndigenEYEZ is happy to announce that we will be doing a series of online webinars in partnership with the UBC Learning Circle. Topics will focus on the four threads of the IndigenEYEZ methodology: Connecting to Self, Others, Communities, and Land.
We invite you to join us on October 4th, 2018 for the first installment: Connecting to Self, presented by IndigenEYEZ co-founder Kim Haxton.


During this online webinar we will focus on exploring different strategies for strengthening personal creativity and fostering the ability to think things up and express them.
Arts-based activities such as storytelling, theatre, and writing help us explore and express the impacts of colonization on our leadership skills. They are also instrumental in identifying our vision of 'returning home' to Indigenous values and beliefs. Kim will be sharing examples of arts-based activities that communities can undertake and how we can awaken to our purpose and passion and identify our gifts and strengths.
We will discuss questions such as:
What difference do I want to make in my family, community and world at large?
What gets in the way of me fully stepping into my essence?
What are the 'per–spectacles' that shape my behaviours?
Do I see the world through my colonized or my indigenous EYEZ?
Your Facilitator
Kim Haxton is Potowatomi from the Wasauksing First Nation in northern Ontario. With degrees in geography and outdoor recreation, Kim has two decades of experience doing wilderness therapy and leadership development with aboriginal youth. After 20 years studying with indigenous healers from Nepal, Thailand, Peru, Venezuela, Mexico, Belize, Haiti, and North America, Kim has become deeply involved in the healing of community and Individual. Kim brings a unique perspective to healing which includes traditional and modern modalities. Kim is convinced of the power of individuals and communities to enact their own healing through decolonization and harmonizing with nature.
Everyone welcome to participate in the free webinar:
Date: October 4, 2018 (PST)
Time: 10 a.m. to 11:30 am
Where: Videoconference OR internet webinar.
Registration: required to participate
 Questions?
email Cole Daley at cole.daley@ubc.ca