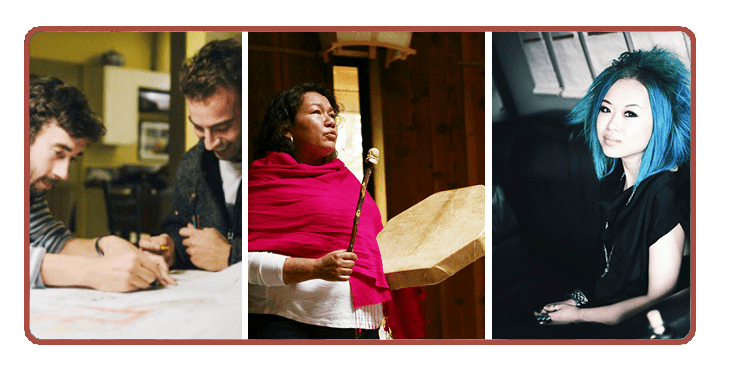 Sept 12, 2017—Vancouver, BC: This summer IndigenEYEZ worked with ArtStarts to host a summer camp for teachers. Thank you to IndigenEYEZ co-founder Kim Haxton for sharing this article.
---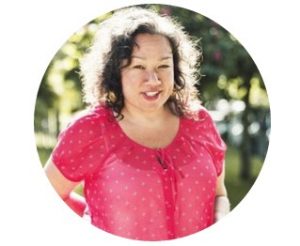 Woven Together: Summer Camp for Teachers
by Kim Haxton
At the end of August, Indigeneyez joined Artstarts in a two-day summer camp for teachers. The camp used hands-on experiential workshops featuring visual artists and First Nations creative facilitators to weave together the First Peoples Principles of Learning with Core Competencies and Big Ideas in the new BC curriculum.
This event offered skill-building workshops in truth and reconciliation, while addressing themes of ecology, social justice and cultural appropriation. We spoke to the idea of disrupting the narratives that we carry in our society as well as within the education system.

We chose a couple of activities that focused on Indigenous ways of knowing and relating with the natural world. People joined in pairs; one person wore a blindfold, and the other took them on a walk to "find" and "meet" a tree. Later in the activity, they got to find the tree again without the blindfold on. Participants experienced the learning that there are diverse ways in which we connect, not only the with natural world, but also with each other.
(Greet a Tree footage from Aboriginal HeadStart: Then & Now 2015.)
Indigeneyez focused on creating a culturally safe learning environment to explore the intersections of education and de-colonization through the perspective of art and social justice. By deepening their understanding, teachers walked away excited and confident with easy and practical skills on how to create culturally safe classrooms for young people.
---
ATTENTION: INDIGENOUS ARTISTS AND KNOWLEDGE KEEPERS
Our next collaboration with ArtStarts will give you tools to bring your creativity and wisdom into BC schools. Travel grants are available for outside the Lower Mainland.
Applications due September 14th.
For more information click here: http://artstarts.com/aill-indigenous