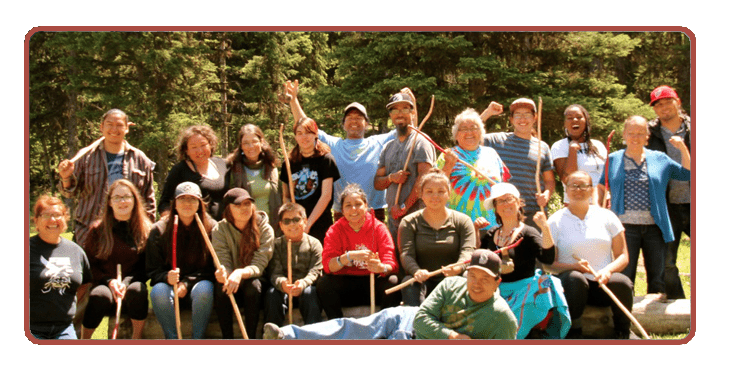 July 12, 2017—Glimpse Lake, BC: Organized by IndigenEYEZ and the Global Diversity Foundation with the support of the Upper Nicola Band and the Okanagan Nation Alliance, our Okanagan Environmental Leadership Camp, June 10-17, was a successful and heartwarming gathering for Indigenous youth ages 18-30.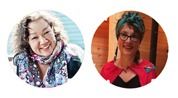 This article is based on the words of camp facilitators Kim Haxton and Hazel Bell Koski.
---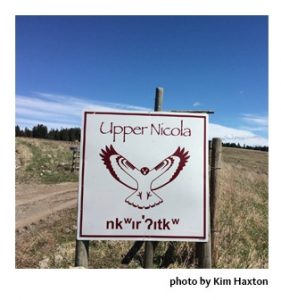 Traditionally called "In ka reet" by the Okanagan peoples, Glimpse Lake has been a gathering place for Indigenous communities for many generations.
Off-grid, it is a high-altitude camp nestled into a small bay with a few log buildings and an arbour. No electricity or running water, the lake itself provided us with morning baths and with visitors such as herons, eagles, geese, and a black bear.

At Glimpse Lake, we found what we needed to be healthy and strong. Morning dips in the lake, wildflowers, fresh air, sweat lodges, challenging conversations about gender, land rights and Aboriginal title, systematic colonization, cultural genocide, effects of residential schools, inter-generational trauma, foster care… all of this brought us strength.

During the seven days of camp we were able to find space for all of these conversations because we took the time to authentically be with one another. We played games, we sat in circle, we shared meals, we worked, we were soaking wet and cold from the rain, we laughed and cried. All of this brought us together. Everyone, from youth to elder, we all got vulnerable.
So how did we get there? By slowly adding incremental creative risks that encouraged each and every one of us to step out of our comfort zone and take short journeys to the edges of our personal growth.

Camp participants were teamed up into contribution groups (Air, Fire, Water and Earth) and completed different duties each day to ensure camp ran smoothly. These same teams also got to compete with full heart and strength in a knobby ball tournament that lasted over several days.
Knobby ball (also known as double-ball) is a centuries-old Indigenous game that has been played in various forms throughout North America. Similar in some ways to lacrosse (which is also First Nations in origin), it involves two teams of players competing to get a double-ball across a goal line, or hit a target.
Participants use special sticks about three feet in length with a hook on the end to scoop up the double-ball, as well as run, pass and catch with it. According to First Nations support worker Crystal McMaster, in the early days, games of double-ball could go on for days, and cover miles of territory.

Mid-way through the week, our responsibility as Indigenous peoples was gently challenged by elder Rob Edwards who led a teaching session about land issues, resource policies, and the Indian Act. These teachings were specific to the Okanagan territory we were in and the current environmental and land issues that the region is facing.
We reviewed what cultural traditions are based in these lands, and how they are affected by the impacts of the resource industry such as agriculture, mining, and logging.
Our camaraderie and togetherness grew even more as we spoke of solutions that honor traditions, land rights, and the ways to move forward in a good way, in solidarity.

Both an internal and external process, visual art by itself can heal. Inside of a 7-day IndigenEYEZ land-based camp, visual art became an avenue to unleash the never-before-expressed. There was wild and infectious creative energy generated during the fun activities at the art barn, which included tie-dying, stencil making, drawing, painting, poetry, silk screening, spray painting, and collage art.

Art barn facilitator Deb Crow led the creative explosion with a t-shirt tie-dye workshop, while Hazel supported us to make stencils. We used those stencils to silk screen our tie-dyed t-shirts—and then to stencil any and all blank clothes we had in our suitcases. When making stencils, we were encouraged to make our own visionary images, images from the stories we've heard, from our own traditions, from nature, from what we love.

After days of playing together and making things with our hands, the stories and the jokes started to flow. Pretty soon we were spray painting the "laughing Sasquatch" on everyone's car! You know how it goes….
Artist and youth worker Jeska Slater brought canvases cut in the shape of deer hides. Our Indigenous youth were given free rein to express themselves, their needs, their desires for the future, their fears and angers, the things they hold dear. After camp, these canvases were displayed in downtown Vancouver at an Indigenous celebration. From ducks to mountain tops, water to air, forests to wildflower, microbes in the soil to eagles in the tree tops, the cut-and-paste collaged artwork captured the spirit, depth, and commitment of our Indigenous youth to the land itself.
Because of all of these experiences – the art barn, games, playing, conversations, camp work, scavenger hunt, and sitting around the fire for five nights – we were able to get to very special place of unity where we could share a co-created ceremony.

A fire was built in preparation for an extended day-long solo sit with the land. This period of solitude was meant to allow us a space to connect more deeply with the land, and to contemplate how we perceive love and how we receive love. The natural setting responded to our intentions by offering numerous gifts, lessons, and insights for each one of us, which, when we returned to the group, we could share if we chose to.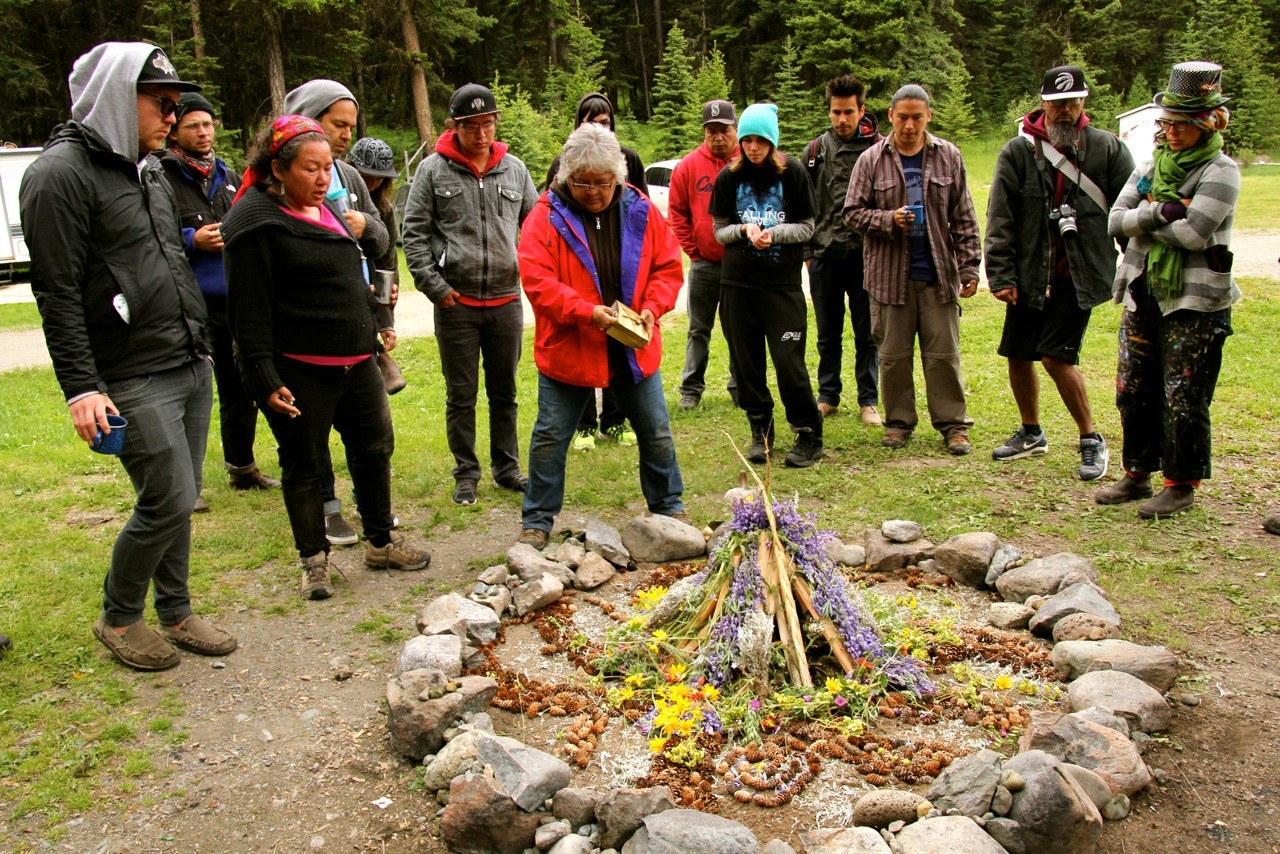 We all need more of this in our lives. Connection to land. Creative self-expression. Traditional cultural teachings. It is this trinity – held within a nurturing, intergenerational container – that is a force for healing and community building.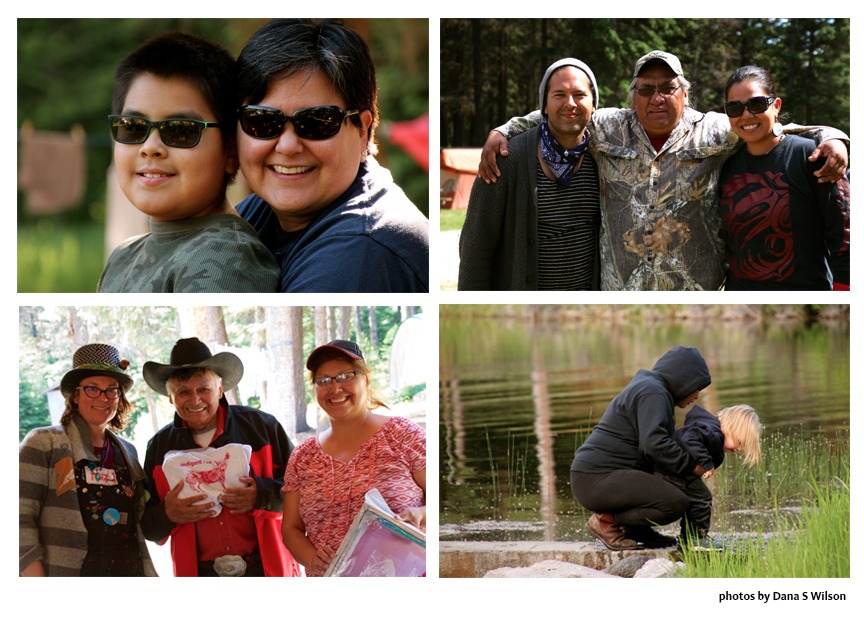 IndigenEYEZ is so effective because it focuses on the whole community, not the Individual. It empowers an entire web of relationships so that we all feel strengthened. Support and personal empowerment is felt by each individual in the community and all are lifted up together.
At Glimpse Lake, every participant was allowed to step forward to express themselves in a dynamic way, whether through ceremony, dance, visual art, story, or song. Within that stepping forward, each person was respected, recognized, heard, and healed. By developing uncommon levels of kinship and trust in one another, we received the most transformative medicine of all: shared laughter and tears.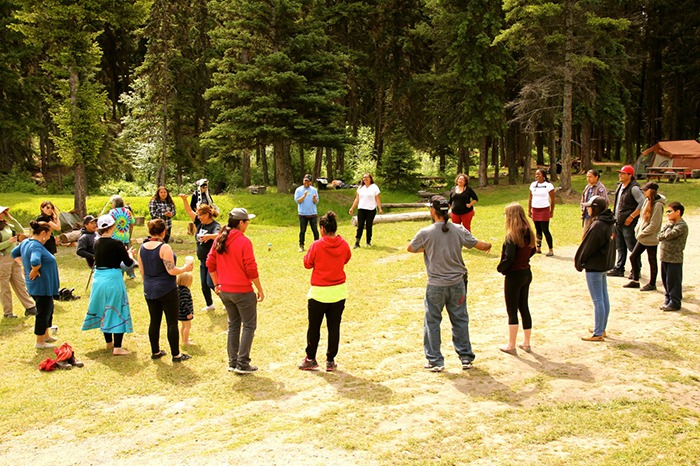 IndigenEYEZ gratefully acknowledges the support of the First Peoples' Cultural Council and the First Nations Health Authority in making our Glimpse Lake camp possible.
Does this article speak to you? Click the images below for more information on each of our upcoming summer events, workshops and youth camp. We'd love to see you there.
---