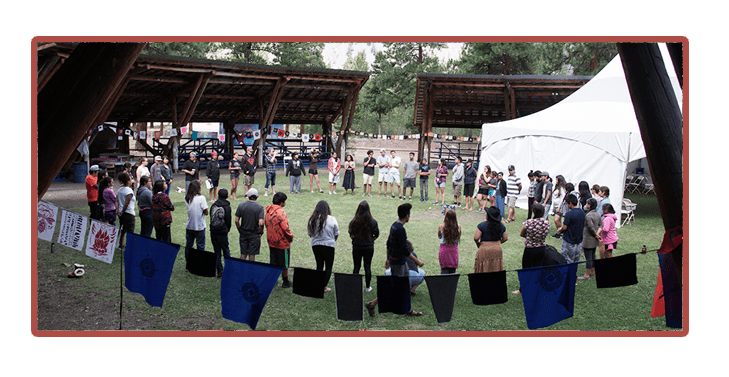 Oct 20, 2016—Cawston, BC: Now that summer is over and our camp season is behind us, IndigenEYEZ has begun planning the next round of camps for the summer of 2017!
The 3rd annual 7-day youth camp (youth 14 -18) will be held in partnership with Power of Hope Canada, the week of July 3rd -10th (location to be determined). Registration will begin shortly.
We will also be hosting a camp for emerging leaders in environmental stewardship (youth 19 and older). This camp will be held in Glimpse Lake in mid-June 2017 in partnership with the Upper Nicola band and Global Diversity Foundation.
Have you ever attended our 7-day youth camp? This past summer was a special one.
Over the course of one week, enormous changes occur in both individuals and the group as a whole. By the end of the week our community of 'elders in training' are able to express support and a deep care for each other. Individuals become emotionally lighter as they begin to realize change is possible; that they are connected to the nature around them, that they are valued, and have value – no matter who they are or the circumstances they come from.
The youth and mentors who attended our camp came from a diverse range of backgrounds. Whether they were young or old, indigenous or ally, whether they came from on-reserve or urban setting, foster homes or part of a large extended family, there were deep connections made across the differences.
Youth who might have come from challenging circumstances and backgrounds had the experience of being immersed within a community where they were valued and 'lifted up' for who they are. A variety of arts based activities (such as theater, song, dance, and visual art) were utilized to draw out the inner expressions of the youth, who slowly un-peeled layers of fear which masked their authentic selves. Being seen, heard and validated by others is one of the cornerstones for healthy self-esteem and confidence.
Culture is not something that is added into the camp as an extra 'component' or activity, rather, it is woven into the foundation of the camp and how it is run on a daily basis.
One of the camp facilitators, a hunter, got a deer and brought it to the camp. The youth were taught about traditionally preparing and cooking the deer, and even got to feed all the camp participants with it. As well, youth were taught traditional methods of cleaning, preparing and cooking salmon over the fire.
Local elders and community members popped into the camp to share stories and teachings about local medicines, these activities were organically integrated into the daily flow, without much effort. Having the camp located near the pithouse, and in nature, allowed us to 'be' our indigenous selves as we sat around the fire and walked on the land.
Here is what some of our campers had to say:
"I needed this – I am more intact with my spiritual self after this week."
"I have gained more confidence – I feel like I can be myself."
"Everyone here is very understanding and compassionate, which has helped me be a more understanding and compassionate person."
"I developed leaderships skills – I showed up as my inner self"
"It was life changing. All of the knowledge I received here will stay in my mind and heart forever."
If you don't think you can make it to one of our scheduled youth camps in 2017, IndigenEYEZ is also available for organizations and communities to bring these amazing workshops and our team of facilitators to you!
Please contact Carrie Besko (Inspire@IndigenEYEZ.com) to find out more details on how to book IndigenEYEZ for your next youth empowerment or culture camp.