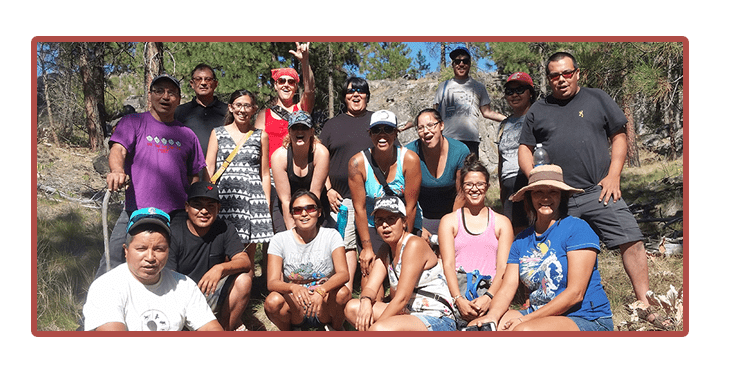 Sept 17, 2016—Penticton BC: Our first 5-day IndigenEYEZ: Leadership Essentials training was a hit. Called Catch the Fire, it was hosted by the Okanagan Nation Alliance and focused on reigniting the passion and purpose of each participant.
Favorite feedback of the week:
"Have you ever felt self-doubt? Have you had tapes playing in your head that don't shut up? Do you want to stay empowered in your job? Go to indigenEYEZ!"
Working in community can mean high demands and limited resources. We need to replenish our hope and inspiration in order to offer our fullest vitality. Catch The Fire combined teachings to enhance leadership with arts-based activities led by a fun-filled team of IndigenEYEZ facilitators.
Our creative community methodologies foster a space where participants get to know one another as more than just people with specific job titles. A key message during Catch The Fire was that we need to work collaboratively. We cannot do this work alone—which means:
Learn to deal with issues
Dive courageously into difficult conversations
Be self-aware
Draw upon your creative spirit
"Passion is the wind in your sails, and practicality is the rudder. You need both to get where you want to go." – Kelly Terbasket, Lead Facilitator and IndigenEYEZ Program Director
Catch The Fire balanced this deep introspective work with creative process. The arts help get us out of a perfectionist state of mind and into spontaneous action where we can access innovative thinking. Creative activities at Catch the Fire included:
Cedar bracelets with Avis O'Brien
Art Barn with Deb Crow
Four Food Chiefs and sqilxwcut with Bill Cohen
Exploring the four threads of IndigenEYEZ—connecting to self, others, land, culture—while on the land with Dustin Louis
IndigenEYEZ Leadership Essentials bring together your head, your heart, and your spirit. Here is what some of our participants had to say:
"An amazing opportunity to reconnect with self, community and my path in this world."
"Great opportunity to open yourself to personal growth and learning in a safe environment. It's a way to learn and grow without feeling like you are doing work, you will have so much fun."
"Learn great skills and get tools to bring about change in yourself, your workplace and community."
"I am leaving with a refreshing inspiration and encouragement to continue working towards my passion and to achieve my career goals."
For more info on upcoming trainings, contact our program director.