Are you a Frontline Worker? Champions of Change will give you a new set of tools to more effectively address challenging relationships, increasing engagement, and motivate your community.
Are you a Health Program Manager? During Champions of Change you will learn how to build and maintain positive uplifting teams, and strengthen your leadership skills.

Are you a Teacher? Champions of Change demonstrates holistic experiential lesson planning, which incorporate engaging art activities and First Peoples principles of learning.

This innovative coaching and leadership training series will give you tools to more effectively reach your goals and foster the changes you are striving for—whether you're working with children, youth, families, health, natural resources, education or employment.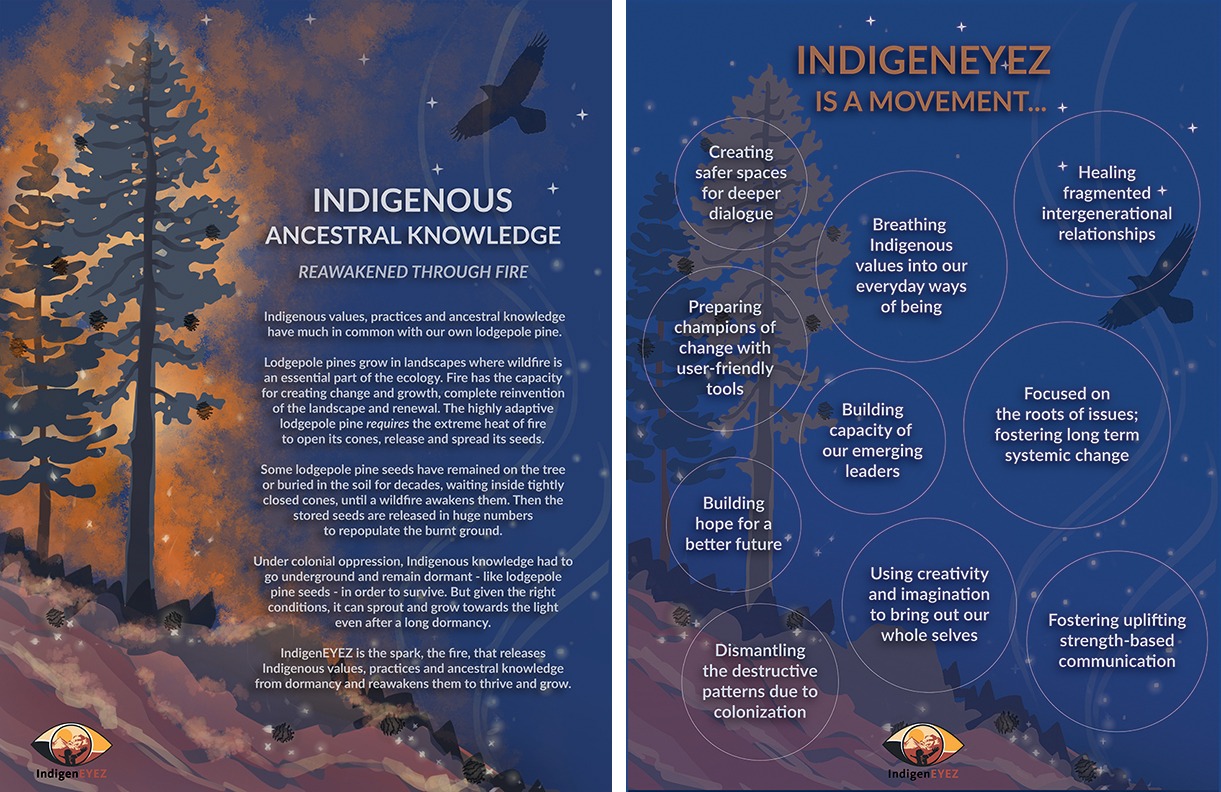 Because we use a coach approach, we focus on the needs and priorities that arise from the specific group assembled for each workshop – so the topics covered in the sessions are both responsive and fluid. These 5 modules (10 sessions) will strengthen your connection to yourself, to others, and to the land and water:
---
Module One (2 days): Connection to Self
This first module strengthens self-awareness of unique strengths and leadership qualities. The goal is to ignite your imagination and creative spirit so you can allow more of your strengths and wisdom to sparkle through. Arts-based processes are explored to encourage participants to open up to express what is within themselves, open up to new ways of thinking, and awaken purpose and passion. Questions will be explored like: Who am I? What does it mean to be Indigenous or ally? What are the gifts/strengths that I have to offer? What contributions do I want to make in my family, community, and the world? What gets in the way of fully stepping into my essence?
Module Two (2 days): Connection to Others
The second module will share Syilx concepts and stories illustrating traditional values such as kindness, respect, and patience. Deep empathetic listening and strength-based communication are some of the teachings that will support us to enhance existing relationships and navigate challenging ones. Coaching processes are used to provide peer support for taking bold steps into leadership.
Module Three (2 days): Connection to Team
In this third module we draw upon coaching methodologies and creative empowerment to foster a community of learners who lift one another up. The captikwl stories teach us that each of us has different leadership styles, and we need all types to make the best decisions and best plans possible. Coyote teaches us to learn from our mistakes and Fox reminds us about unconditional love. Through interactive processes we gain perspective and begin to identify the masks, triggers, and patterns that stand in the way of deeper, more authentic connections with others.
Module Four (2 days): Connection to Community
In this module, traditional and contemporary models for change are explored. We discuss the changes we want to foster in our communities and classrooms. We share tools for "ritualizing into practice" our new habits and healthy patterns. We teach how to build containers for courageous conversations. The impacts of colonization and the meaning of truth and reconciliation will be explored as we identify the next steps forward in our journey—both individually and collectively. We will ask: What fosters change in community? And how do we unite our people across the generations when the divides are deep and complex between families, sectors, and age groups?
Module Five (2 days): Connection to Land and Culture
These final sessions lead us outdoors to strengthen our relationship to the land and ancestors. Land-based activities from the Rediscovery program are utilized to support participants in opening your senses and remembering the healing aspects of simply being connected to nature. Sharing of traditional teachings and concepts is the focus of this module.
We can structure our programs to extend over time: i.e. 2 days per month for 5 months, or 10 sessions over two weeks. We are skilled at tailoring our programs to optimize outcomes.
---
Additional Cost Considerations
1) Group Size
Our facilitators are trained to work with groups of up to 20.
• For groups over 20, expect to pay an additional facilitator.
• For groups over 40, expect to pay for 2 additional facilitators.
2) Travel and Accommodations
• Travel and Accommodations costs are extra.