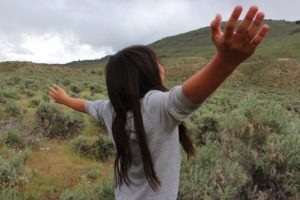 IndigenEYEZ was co-founded by Kim Haxton and Kelly Terbasket in 2013. This would not have been possible without the guidance of Partners for Youth Empowerment co-founders Charlie Murphy and Peggy Taylor and the vision and startup capital of Ian Watson.
This is the story of how these changemakers found each other at the right time and in the right place to ignite the movement that is IndigenEYEZ.
---
The Seed
Ten years earlier, Kim Haxton had been invited to a popular youth camp called Hip Hop Hope. She wasn't able to attend because she was busy running another program called Rediscovery, a land-and culture-based camp for Indigenous youth. Working in the program had allowed Kim to travel around the province of BC, Turtle Island, and even the globe, leading land-based workshops in Indigenous communities.
By 2011, Hip Hop Hope had evolved into Power of Hope, and was run by an organization called Partners For Youth Empowerment (PYE). This was the year that there was finally an opening in Kim's schedule which allowed her to attend and the camp inspired her tremendously. While there she was struck by the thought: If you could combine the Power of Hope program with the Rediscovery model, then you would have one of the most powerful Indigenous youth programs out there.
The seed was planted.
Fertile Soil
Around the same time, Ian Watson, a board member, chairman and co-founder of PYE, heard how impactful the creative empowerment methodology was for Indigenous participants in Power of Hope camps. Ian got curious about how he could help bring these impacts to more Indigenous youth and their communities.
The seed of IndigenEYEZ was starting to find fertile soil.
Not long after, Kelly Terbasket was leaving a meeting in the Okanagan when a friend asked if she could give his buddy Warren Hooley a ride home. Kelly had heard about this inspirational hip hop artist and was curious to meet him. On the one-hour drive, they talked nonstop. Warren was bubbling over with enthusiasm about the creative facilitation training he had just taken. Kelly had been facilitating for 15 years without any training and she loved the idea of mixing creative interactions with facilitation so—as soon as she got home—she signed up for PYE's next training.
The first person to greet her when she arrived at the training was Charlie Murphy, one of the founders of PYE. When the workshop began, Kelly felt like she had come home. She could see immediately that the Creative Community tool kit was a remarkable fit to address the barriers she had witnessed in Indigenous communities.
Sprouting
Within her own work, Kelly had been trying to develop a holistic teaching system to decolonize Indigenous minds, and here it was. She was thrilled to find such a well-developed program based on research that used the arts to foster self-expression, confidence, and pride in identity. Here were fun, simple ways to rebuild fragmented relationships. Here were engaging methods for fostering self-expression. Here was how to create safe space to talk about what matters.
She knew immediately that she wanted to bring Charlie to the Okanagan, so she asked him out for lunch. Over lunch she noticed he was asking her a lot of questions about her past work. For the previous 20 years, Kelly had worked in management roles with government and various Indigenous organizations and had great skills for building and managing new social programs. Charlie shared that PYE was looking to support an Indigenous person to bring the creative community methods to Indigenous youth and asked if she might be interested. Kelly was busy running her own consulting business, so she hesitated to commit but agreed to explore the idea.
The seed began to sprout.
Daylight
When Charlie came to the Okanagan to deliver the training, Kim and Kelly met for the first time. They hung out at Kelly's home for a few days, getting to know each other, swimming in the river, and talking about building an Indigenous version of the Power of Hope camps. They were excited and could envision this new program making a huge impact in BC and across Canada.
Soon after, Ian Watson stepped in, generously offering funds to get the work started. With Ian's crucial support, the sprouting seed found daylight.
Now the program needed a name.

This came from a ceremony on Haida Gwaii. Kim was sitting on the beach, watching the sunrise when she heard the word IndigenEYEZ. The message was to have one eye looking inward, and one eye looking forward. In that single word was wrapped up history, culture, personal identity, all combined with an awareness of the present, and walking this combined self-knowledge forward into the future in a good way.
Growth
In 2014, IndigenEYEZ ran its first three-day camp. It was a homerun. Just as Kim has foreseen, IndigenEYEZ successfully fused Creative Facilitation with Rediscovery and the results set participants on fire.
The synergy that brought all the elements of IndigenEYEZ together was strong. Ian Watson's vision and generosity sprouted a seed that continues to grow bigger each year. His guidance as Chair of the Steering Committee has been essential, as has his work connecting IndigenEYEZ with other philanthropists who are committed to reconciliation and making a difference in Indigenous lives.
The support and mentorship of PYE and Power of Hope have been the perfect mix of rain and sunshine for steady growth. Without the generosity of PYE in freely sharing methods and materials developed over two decades of hard work, none of this would be possible. Likewise with the one-on-one mentorship that has been given to IndigenEYEZ's expanding network of facilitators from Peggy, Charlie, Nadia, Khari, Rup, Sara, Mariko, Mutya and others at PYE.
As IndigenEYEZ has continued to grow, gratitude goes out to all our participants, all our amazing partners, and all our valued funders—large and small—who have contributed to our movement towards a world where Indigenous youth stand tall in their power, facing the challenges of tomorrow while grounded in the wisdom of the ancestors.
Lim'limpt.
To learn about our current activities, visit our news page—or sign up for our newsletter and follow our journey into the future.