The individuals in our facilitation network are indispensable to the mission of IndigenEYEZ. These incredibly talented facilitators share our vision of a world in which all Indigenous youth are supported in becoming the leaders and change-makers of tomorrow.
---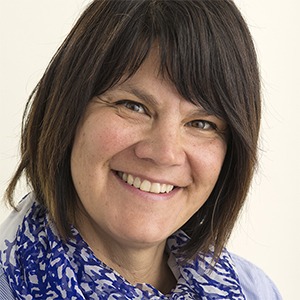 Kelly Terbasket

IndigenEYEZ Program Director Kelly Terbasket has a contagious laugh, a talent for connecting people, and a passion for the power of community. With more than 20 years experience managing community projects, Kelly is known in First Nations throughout BC for her inspiring workshops on everything from team building to strategic planning to effective leadership. As a person of mixed heritage, Kelly has been bridging distinct worlds all her life, learning to weave together the strengths of her Syilx and European ancestry. Kelly is honored to be leading this exciting new program and loves to facilitate IndigenEYEZ trainings. The proud mother of two beautiful young women, Madeline and Sophia, Kelly lives in her family's ancestral home in the south Okanagan.

---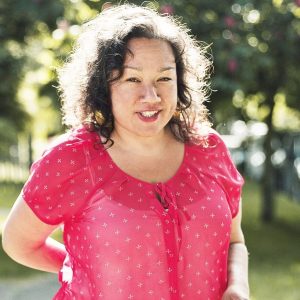 Kim Haxton

IndigenEYEZ co-founder Kim is Potowatomi from the Wasauksing First Nation in northern Ontario. With degrees in geography and outdoor recreation, Kim has two decades of experience doing wilderness therapy and leadership development with aboriginal youth.
After 20 years studying with indigenous healers from Nepal, Thailand, Peru, Venezuela, Mexico, Belize, Haiti, and North America, Kim has become deeply involved in the healing of community and individual. Kim's extensive work in trauma counselling training has given her the opportunity to work hands-on with survivors of disaster, whether man-made or natural, whether immediate or ancestral. Paired with Kim's trauma work and healing knowledge is a strong background in wilderness therapy that has allowed her to support peoples' discovery of their internal compass while establishing their relationship to nature. Kim brings a unique perspective to healing which includes traditional and modern modalities. Kim is convinced of the power of individuals and communities to enact their own healing through decolonization and harmonizing with nature.
---
Timothy Manuel

Tim Manuel carries the traditional Sylix name of Petkwumen which means "big nail". He also carries a second Sylix traditional name, N'petkwulax, which means "nailed to the earth". Tim is from Spaxomin (Douglas Lake), which is 45 km east of Merritt, B.C. This community is a Sylix speaking community (Upper Nicola Band) and are within the traditional territory of the Okanagan Nation.
Tim has served ten years on Band council and five years as Chief at Upper Nicola, from 1996 to 2011. After he retired from the political arena of serving the community directly, he embarked on a new journey with School District #58 as a Support worker and Cultural Teacher. Tim has taught Nlakampux and Syilx cultures throughout the entire school district for the past five years.
Timothy's passions are working with youth to provide them with the opportunity to be connected with their culture, language, traditional knowledge and community. Tim continues the legacy of his ancestors by sharing his knowledge with his son, Isaac Joe Manuel (traditional Sylix name Skoksee and kwaguilth name of Mandlida'as).
"Our connectivity to who we are, where we are from and where we are going is integral to our well being in each of our lifetimes."
---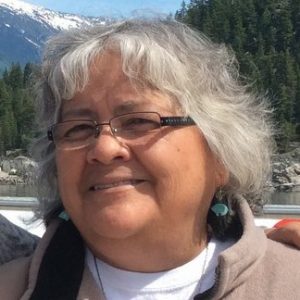 Deb Crow

Deb Crow is an art facilitator, Syilx nation member, and a grandmother who utilizes her own experiences and her creative nature to create a fun loving environment to foster creativity, self-esteem and social confidence in participants through art. For over 30 years she has worked with youth and community to provide an opportunity to increase understanding of wellness among diverse cultures.
"The exposure I have had to art therapy has shown me what a powerful tool it is in regards to healing. It is private and respectful of individuals. It helps people to share what they have on the inside."
---
Hazel Bell-Koski

Hazel Bell-Koski, is a self-directed, steadfast woman of mixed Anishinabeg, Finnish, Irish, and English heritage. She holds a BFA in Film Studies from Ryerson University and has maintained a multi-disciplinary arts practice for over twenty years, including public exhibits, facilitation of inter-generational community storytelling and art-making circles, and professional experience as an multi-disciplinary artist, creative facilitator, and event coordinator.
She has extensive experience in working with diverse intergenerational communities. Giving her the capacity and awareness required to create and hold spaces of belonging and safety for groups of people, inviting at levels of creative confidence into a creative process.
Past partners include such organizations as the Toronto District School Board, Sketch Working Arts for Street Youth, Transformative Learning Centre at the University of Toronto, Toronto Public Libraries, the Institute of Noetic Sciences, Rainforest Action Network, Green Peace, Grassy Narrows First Nation, Power of Hope, IndigenEYEZ, PORAMOR, and ALIVE in connection with Reconciliation in Action.
Her first language is colour.
---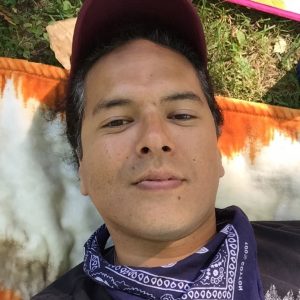 Allan Thomas Lindley
Allan Thomas Lindley (they/them/their pro-nouns, sometimes he) is Syilx, Nlaka'pamux, and Mistawsis Cree First Nations from the Nicola Valley in Merritt BC. Allan is a member of the Upper Nicola Band (Quilchena), which is a part of the Okanagan Nation.
Allan is a part of the IndigenEYEZ facilitator community and has worked for RainCity Housing and Support Society in the DTES of Vancouver since 2009 where they are currently the Manager of Indigenous Services. RainCity Housing works at housing and social-inclusion, justice and equity for people who are experiencing or are at-risk of being homeless; who are under-resourced, living with addictions, and/or navigating mental-wellness. Allan has worked with homeless LGBTQ2S+ youth and with communities in reclaiming and remembering Two-Spirit/Trans/Non-Binary/Queer/Gender Variant identities, history, and culture, in both traditional/pre-contact and contemporary Indigenous community. They also inquire, ally, and locate themselves in de-stigmatizing and educating around what often gets called 'mental illness.' This work helps disrupt narratives of Indigeneity, identity, and wellness, bringing much needed conversations around inclusion and intersectionality.
Allan also works in Syilx language, enjoys making music, exploring/traveling, being on the land, and storytelling. Theatre, singing, and art are just a few of the ways they continue to explore bridging reclamation and resistance in our community.
---
Mutya Macatumpag

Mutya Macatumpag (moo-cha) (maca-toom-pag) aka. findmutya is a queer Pinoy of Spanish and Malayan descent made in the Philippines and born a settler on the Unceded Coast Salish Territories of the xwməθkwəy̓əm (Musqueam), sḵwx̱wú7mesh (Squamish), Stó:lō, and Tsleil-Waututh traditional peoples.
Mutya is an interdisciplinary artist who interweaves music, movement, theatre and visual arts within her professional practice as a creator, performer, facilitator and event producer. As an interdisciplinary artist she uses the stories in her body as a source for material to investigate the inner narratives that exist in her heart and cellular memory.
Mutya has worked with a variety of intergenerational, intercultural and youth focused organizations across BC, Quebec and the US and hopes to continue on this path of collaborating, teaching, studying and performing on an International scale.
Mutya is currently a creative facilitator and performer with PYE Global, IndigenEYEZ, Reel Youth – Access to Media Education Society, and Theatre for Living, among many others. findmutya's recent musical performances include the New Forms Festival, Kokislah Music Festival and the Tiny Tiny Cozy Fest. For more information or to contact Mutya, please email findmutya@gmail.com – look her up on social media with the alias findmutya.
---
Jeska Slater

Jeska Slater is a Nehiyah iskwew (Cree woman) whose Mother's side of the family is from Ochekwi Sipi (Fisher River Cree Nation) in Manitoba. Looking to combine her passion for painting, connection to cultural teachings and supporting Indigenous communities she has developed a unique set of workshops with her company Young Artist Warriors (YAW). YAW's mandate is to actively honour Indigenous knowledge and protocol while fostering positive identity development through contemporary art-making. This work aims to show the intrinsic links between cultural-esteem and self-esteem.

Young Artist Warriors (YAW) has been working with youth, in small communities, through Indigenous Education programs, and non-profit organizations since 2008. YAW's mandate is to honour traditional knowledge, value systems and protocols while fostering positive identity development through the arts. YAW's workshops empower participants to create contemporary art pieces aimed at elevating both cultural esteem and personal self-esteem and to show that the two are intrinsically linked. For more information on Young Artist Warriors please visit https://www.youngartistwarriors.com/
---
Avis Nalaga O'Brien
Avis Nalaga O'Brien, a Haida/Kwakwakw'wakw artist, was born in Alert Bay, British Columbia. She belongs to the Kaa'was Staa'stas Eagle Clan from Kiusta Village in Haida Gwaii and the Geegilgum Clam of the Likwiolk people of Cape Mudge.
Nalaga is a carver, weaver, painter, designer and jeweler. She started her company, Nalaga Designs in 2013 as a way to share the cultural knowledge and elegance of
cedar bark weaving with the world. Cedar bark weaving has been her connection to the rich legacy of the Haida and Kwakwakw'wakw, and has also been a doorway for her to pursue other artforms.
Avis's work with cedar is grounded in decolonization. Cedar has given her a connection to the land and a deep respect for the earth. Her desire is to help others connect to the land in this way as a way of moving forward in the direction of decolonizing ourselves. Nalaga's weaving workshops are a way to bring forward the positive energy and imagery from our ancestors. She respects the gifts that come from the spirit world, protects these gifts, and is dedicated to passing them on to future generations.