Mar 19, 2019—Hedley, BC: We're so very excited to be returning Sylix territory, just outside of Hedley, BC, for the 6th annual IndigenEYEZ Youth Camp, July 14th – 21st! Mark your calendars! Look for camp registration details to come out soon!
Do you remember last summer's camp? Here's a quick recap of the art, fun, laughs and friendships that blossomed.

---
In 2018 our Youth Camp was large, with about 50 youth in attendance, age 14-18, traveling from all over western Canada, and with about 30 support staff. We were tightly nestled in the Similkameen valley, in teepees and tents, right next to the beautiful Similkameen River.

During our 7 days on the land we experienced nature walks, games of all kinds, inner personal growth, resilient community, and even visits from the eagles. Activities and workshops included jewelry and medicine making, writing, theatre, singing, dancing, even stargazing, fishing, and of course the tough stuff, like residential schools, addiction, and even overdose prevention.

In the evening the shadow puppets brought everyone at camp together; in creativity and self expression.
After our community dinners the knobby ball tournament got everyone reaching for success and achievement together, with encouragement and teamwork – with more memorable and meaningful halftime shows that any superbowl extravaganza!

Daily swimming brought fun, refreshment, and relief to everyone in the 40 degree afternoons.
For 18 year old Satyn, this was her second IndigenEYEZ camp. Here's her story: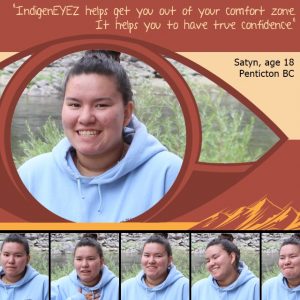 Traditional singing helps me be me – it warms my heart. The workshops help you to get out of your comfort zone in a positive way; helping you get to that point where you have true confidence.
As scary as it may be, you just gotta go an do it, you can't hold back. Here you can really be who you are without being judged. The facilitators and all the youth here allow you to be who you are.
At IndigenEYEZ Youth Camps you meet new indigenous youth from all over. Making new friends, and having that bond is really cool; sometimes it's everlasting. You'll always have those memories.
And for 17 year old Jesse, this was his first IndigenEYEZ camp. Here's his story: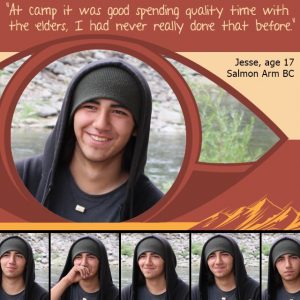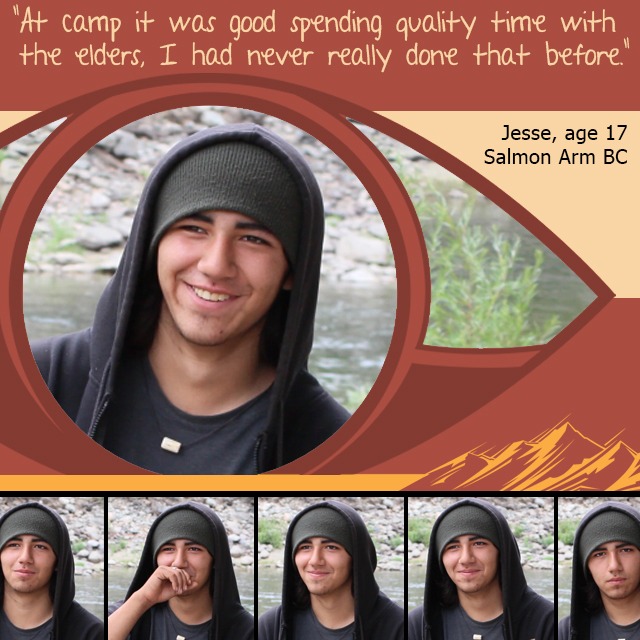 At first I really didn't want to come to camp, but by the end of the week I realized that I'm here for a reason: to meet and learn from all the amazing people here.
This past year I've been getting interested in my own culture, so it's been good spending quality time with the elders, I had never really done that before. I had a chance to speak with one and he gave me some teachings that I was curious about; about ceremonial dances and medicine bundles. I'm hoping to learn more and more every day.

I also caught a fish – it was really exciting. With the help of the facilitators I was shown how to gut it, clean it, and cook it. I ate it too, and it tasted really good. With another facilitator I gave the remains back to the river, a traditional practice of giving thanks.
And then there was the puppet show. I would have never have guessed I'd be doing a shadow puppet play, especially taking on one of the lead roles in the story. I'd say anyone can enjoy this camp. It's fun, you just have to open up to it.
Youth found laughter and smiles, friendship and adventure: during youth led day, and the talent show, this was the most visible. Smiles could be counted in the 1000's.
Throughout the week youth connected to deeper parts of themselves and, within the space of trust and acceptance, brought those deep parts to the surface to share and be celebrated.