March 24, 2020—Cawston, BC: We have been holding youth empowerment camps out on the land for the past 6 summers. These transformative camps have created many memories and strong relationships.

The impacts and intentions of our youth camp can be more far-reaching however, if we share our techniques not just with youth, but empower family and community members as well.
This summer we will be focusing our efforts on delivering a leadership camp that includes parents, elders and youth workers to help strengthen relationships across generations.

We are asking facilitators and community leaders from across BC to join us, leaders who can come with one or two of their youth, and then bring these activities back to their communities to continue the growth they achieve during this summer institute.
Youth impacts can only be long term if participants have mentors or a small cohort in the community that they can connect with on a regular basis. As well, facilitator impacts can be stronger if there are multi-generational advocates in the community.
The long term strategic direction of IndigenEYEZ is to ignite and sustain a movement that actively works towards long-term systemic change.

We are focused not only on today, but 7 generations ahead—we are excited to invite you to the first IndigenEYEZ Summer Leadership Training!
This training is to empower camp leaders, youth workers, and knowledge keepers to transport our IndigenEYEZ creative leadership methods to your own communities and youth programs.
This summer at the IndigenEYEZ Summer Leadership Training you will:
• Share tools to rebuild the fabric of our communities
• Breathe life back into our Indigeneity
• Rekindle traditional values of love, kindness, respect, and honor

IndigenEYEZ is happy and excited to be partnering with Okanagan College in presenting this summer leadership training.
---
TRAINING DATES:
June 4th and June 5th
South Okanagan—Frontline workers only
July 7th to July 9th
Ashnola Valley—Land-based practicum that can include youth from your communities
August 6th and August 7th
South Okanagan—Frontline workers only
COST: TBD
To save your seat! Pre-register here:
Tuition costs, scholarships, and locations within the South Okanagan will be confirmed in the coming weeks. We will be sending out this information on cost and location then, along with confirming your registration.

QUESTIONS?
contact Anni Phillips at inspire@IndigenEYEZ.com or 250-328-9634
---
As mentioned in a previous newsletter, there still are still youth camp opportunities available!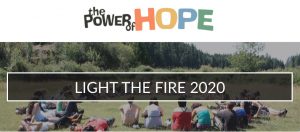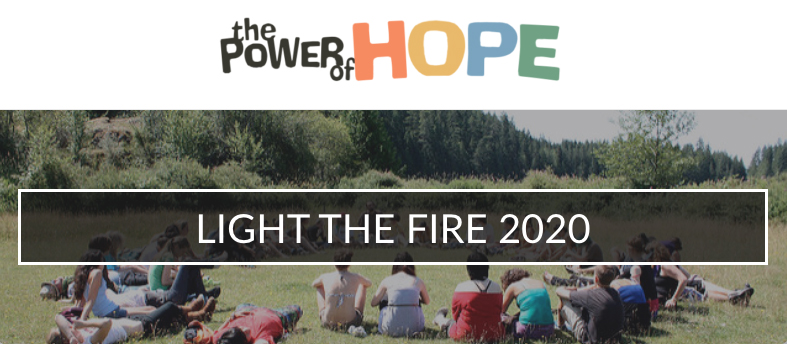 If you, or a youth you know, were looking forward to returning to our camp this summer there is still an amazing opportunity coming up. "Light The Fire" is Power of Hope's annual youth camp on Cortes Island, BC. This year it is being held from July 9th -16th. If you attended or heard about ImaginNATION in 2017—this was us collaborating with the team at Power of Hope.
Their camp is very similar to ours. Both IndigenEYEZ and Power of Hope are rooted in the same creative and arts leadership methodologies, and some of our facilitators will be working at the Power of Hope camp. If you are interested but think the cost might keep you from going, you can apply for a full or partial IndigenEYEZ scholarship. Please contact us here:
Best to act fast, camp registration for Power of Hope begins March 1st.
---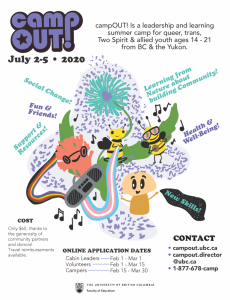 Another great opportunity is CampOUT! July 2-5, 2020.
CampOUT! is for youth ages 14-21 who identify as queer, trans, two-spirit, intersex, asexual, lesbian, gay, genderqueer, questioning, or as allies to the LGBTQ2S+ community who live in BC or the Yukon. Some of our campers identify as LGBTQ, some as children of gay parents, or as siblings of LGBTQ individuals, some as Two-Spirit indigenous people. Other campers are interested in learning to be better allies to BC's queer and trans communities. Some of our campers experience struggle around their identity and/or orientation and others are less conflicted with these issues and are interested in being present in a celebratory space that welcomes ALL of who they are. Learn more about CampOUT! here: campout.ubc.ca/come-to-camp