Feb 6, 2018—Cawston, BC: In four short years, IndigenEYEZ has grown from a good idea into a vibrant organization that is actively changing lives. We operate with a small and committed part-time staff (the equivalent of 2.3 FTEs). Our dynamic programs and flexible approach have resulted in partnerships with universities, First Nations, and social change organizations. Here's a few highlights from 2017: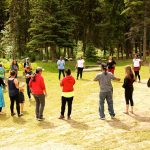 Glimpse Lake Camp • June 10-17: This powerful camp was held off-the grid in the mountains of the Upper Nicola Band. This camp reinforced how, even when we think we are focusing on youth, everyone involved is being empowered and inspired. It is senklip – the trickster coyote – at work transforming us all: not just for the youth, but also for the artists, elders, and even the camp staff who cooked and kept the fires going. (See https://indigeneyez.com/spring-camp/)
IndigenEYEZ at Hollyhock • July 21-25: Our annual summer workshop at this prestigious retreat equips change makers with the tools for challenging times. A highlight this year was the Hollyhock Talks evening featuring our Program Director Kelly Terbasket sharing her personal perspective on the past and future of IndigenEYEZ. (https://indigeneyez.com/hollyhock-2017-2/)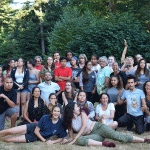 ImagineNATION Youth Camp • August 16-23: This partnership with our sister organization Power of Hope (POH) was held at the Sts'ailes Lhawathet Lalem Retreat Centre in Stó:lō territory. The small youth-to-staff ratio allowed IndigenEYEZ and POH to provide a rich environment where mentorship relationships could thrive. ImagineNATION showed us how vital mixed-culture camps are for the future of reconciliation in Canada. (https://indigeneyez.com/2017-summer-camp/)
Indigenous Youth in Action • August 17-20: This was our second time doing this leadership development workshop with partner Next Up, an exciting national non-profit supporting young people (age 17-32) committed to environmental and social justice. Over four days, we explored Indigenous concepts of land, place, and decolonization. (See https://indigeneyez.com/iyia-youth-in-action/)
Summer Camp for Teachers • August 21-22: This training supported teachers to more effectively implement the new BC public school curriculum and included skills-building in truth and reconciliation, while addressing themes of ecology, social justice and cultural appropriation. We spoke to the idea of disrupting the narratives that we carry in our society as well as within the education system. (See https://indigeneyez.com/camp-for-teachers/)
Leadership Essentials Trainings • October 2016 – September 2017: Our signature series was developed as a pilot project funded by the NIB Trust Fund as part of their residential school healing initiative. The 5 modules (15 training hours each) focus on increasing leadership skills. Over the past year we have successfully rolled it out in 3 locations: Vancouver, Merritt, Okanagan. (Read about the last module in out Vancouver session here: (www.indigeneyez.com/subtle-connection/)
Indigenous Artists Learning Lab • October 24-27 This employment-preparation training prepared 16 Indigenous artists to participate more effectively in the public school system. (See https://artstarts.com/aill-indigenous-artists)
Cultural Safety Training • October 2017: This partnership with UBC targeted incoming medical and nursing students providing them with the foundation to better engage with Indigenous patients, contributing to better health outcomes. The Indigenous Cultural Safety Interdisciplinary Learning Experience was developed in response to Canada's recent TRC Calls to Action. (See https://indigeneyez.com/cultural-safety-at-ubc/)

Sustainable Water Governance and Indigenous Law Project: This summer, this project took us to Yellowknife and the Dechinta Centre for Research and Learning – an Indigenous bush university where remarkable things are happening. As well as providing culture and land-based learning, Dechinta is also an accredited post-secondary institution. In Canada, students of accredited schools have access to more financial supports. (See https://indigeneyez.com/dreaming_the_future/)
---

What can you expect in 2018? Here's our preliminary schedule.
Seats fill fast! Register today!
Know someone who might be interested in one of 2018 our camps?
Click the button below to send this page to a friend with your personalized message: